Ductless Ceiling Cassette Installation in Camp Hill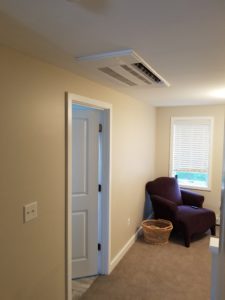 Town: Camp Hill Borough
Type of home: 1950's Cape Cod
Existing System: Gas boiler system with no central air conditioning. Through the wall window a/c units were installed in several rooms of the home.
The Problem: The homeowners wanted central air conditioning to cool the entire home during the summer. The wall units only cooled certain rooms and since they were installed through the wall, they created large air leaks in the winter.
The Solution: Cape cod style homes can create many challenges when trying to condition first and second floors, especially with no existing duct work. This job was a clear candidate for a ductless system, however the homeowner did not want air handlers hanging all over the house. Fortunately, we were able to utilize a newer style of air-handler that is installed into the ceiling for the majority of the home. All with the added bonus of a secondary heat source since the systems are heat pumps. To control each one of these zones, the homeowner decided to utilize a Wi-Fi interface to control the entire home via smart phone or tablet. The plan is to have a 'community' tablet for the whole family to have some control over the zoning.
The Result:  10 dedicated cooling and heating zones with ability to add an 11th – connected to 2 outdoor systems.
2 outdoor inverter driven compressors
8 Ceiling cassettes
1 floor mounted air handler
1 wall mounted air handler
Learn More About Ductless Heating
https://www.ezimmerman.com/wp-content/uploads/2017/06/ez-logo.jpg
0
0
Tim Kortze
https://www.ezimmerman.com/wp-content/uploads/2017/06/ez-logo.jpg
Tim Kortze
2018-07-02 15:07:31
2023-08-29 18:11:31
Ductless Ceiling Cassette Installation in Camp Hill