Ductless or Mini-Split Heating and Cooling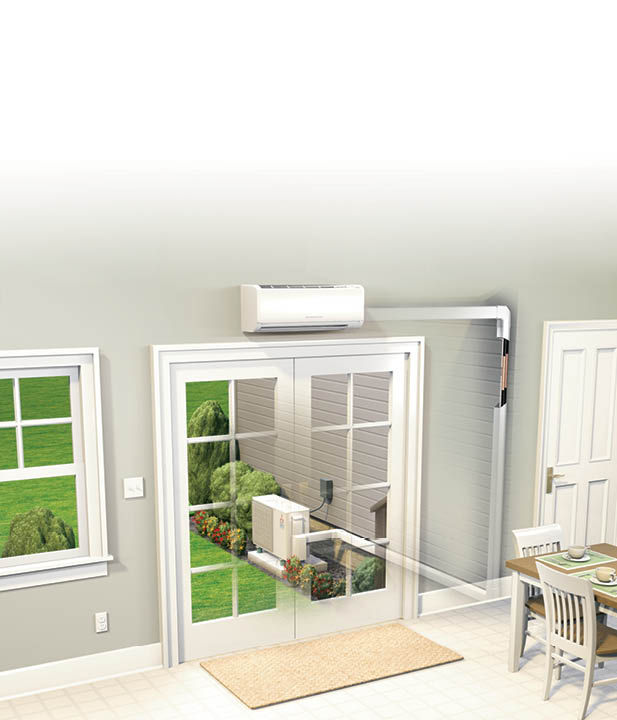 Much like standard air-source heat pumps, mini splits have two main components: an indoor and an outdoor unit. These are great for any home but are ideal for older homes that do not have existing ductwork or as a supplement to an existing system for a room or an addition that may not receive adequate air flow, with the added bonus of reducing the strain on the current system. These offer high efficiency in the coldest or hottest days and can even be a whole-house alternative to traditional heating and cooling options!
Benefits
Very flexible/creative way to heat or cool individual rooms or whole homes
High efficiencies during the coldest or hottest days
Very quiet
Great way to zone heat and cool specific rooms
Many indoor placement and design options
Easy to operate – most units come with a remote control
A Closer Look at Ductless Heat Pump Installation and Services
Mini-split cooling is one of the easiest ways to install air conditioning and heating in an older home without using window air conditioners. In fact, it's one of the favorite methods for retrofitting any older structure without ducts. Conditioned indoor air is here to stay, and by using this technology, virtually any individual space or whole home can be comfortable.
Ductless heating installation is less common than even a boiler system, but it's still perfect for older structures or basic properties — like log cabins — that wouldn't traditionally have a heat source other than a wood burning fireplace or stove. Mini-split systems are quite affordable and simplified compared to installing ductwork after initial construction had finished. However, there are other benefits as well.
These systems consist of an outdoor unit and one or more indoor components. Each of the indoor units are often controlled independently by a remote control or with your smart phone for ultimate convenience, but traditional thermostats can also be utilized.
Installing Ductless Heating for Homes
At Zimmerman, we make the installation as stress-free as possible. When performed by a professional, your ductless heating installation shouldn't disrupt your life. One of our Comfort Consultants will help you select the model that is best for you and your property. You'll receive detailed quote before any work begins, and you'll have the benefit of our parts and labor warranties.
Going without heat isn't an option for the climate of South Central PA. If a traditional unit is unable to reach additions or ductwork is inadequate or non-existent, then going duct-less might be a homerun.
The Benefits of Ductless Cooling for Homes
Ductless cooling installations are affordable, efficient and long-lasting options for providing air conditioning in homes with and without the appropriate features in place for central air. A mini-split system is often more affordable than installing ducts where there were none originally. In many cases, this isn't even possible. Homeowners have just a few choices for dealing with the summer's heat.
In these situations, a ductless system is more affordable to run and looks more professional than a window AC unit, and far less noisy. Sun rooms, additions, basements, hot or cold rooms are all are perfect opportunities to tap into the benefits of ductless cooling.
Ductwork can be a source of wasted energy because weakened ductwork allows for gaps where air escapes. By forgoing the battered ductwork in an older home, owners will be able to enjoy cool indoor air without a decrease in efficiency and comfort.
While mini-split systems are a successful answer to problem areas found throughout a home, they can also be used as a whole-home temperature control solution. To find out more about demand and how to use ductless systems to keep costs low in your home or unconditioned space, get in touch with us for a complete solution.
Click here for a free estimate on a new or replacement mini-split system or call us at (717) 697-3528 or contact us today to schedule a service or maintenance visit.
Request Free EstimateSchedule a Visit
Learn More About Ductless Systems