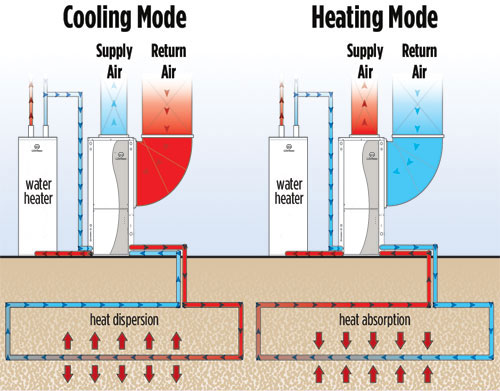 Geothermal Heat Pumps use the earth's constant temperature to exchange cold or warmth for year-round comfort. Underground pipes are installed to transfer liquid from hot to cold in the summer and cold to hot in the winter. These systems are undoubtable the most efficient heating or cooling option we provide for your home and will offer long-term savings. They are long lasting, provide immediate and long-term energy savings, environmentally friendly and run very quietly.
Benefits
Extremely efficient – EPA estimates savings of up to 70% on heating and up to 50% on cooling. On many units, your hot water is also generated by the system
Enhanced comfort – Precise air distribution all year round
Quiet operation – No outdoor unit
Environmentally friendly – Zero greenhouse gases emitted
Clean and safe – There is no combustion so there is zero carbon monoxide emitted
Reliable and long lasting – The indoor unit has a long lifespan and the ground loops can last a lifetime
A large lot is not necessary for geothermal
Older homes can be retrofitted with geothermal
Click here for a free estimate on a Geothermal Heating and Cooling system or call us at (717) 697-3528 or email plumber@ezimmerman.com today to schedule a service or maintenance visit.
https://www.ezimmerman.com/wp-content/uploads/2017/06/Service-icon-_0001.png
134
143
admin
https://www.ezimmerman.com/wp-content/uploads/2017/06/ez-logo.jpg
admin
2017-06-08 14:04:46
2019-05-22 13:36:38
Geothermal Heating and Cooling