What is the Cost of a Ductless Mini-Split System in Harrisburg, PA?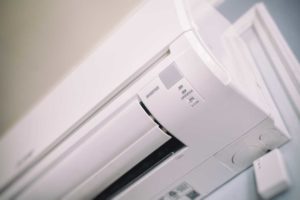 At Zimmerman Plumbing and Heating, we regularly get the question, how much does it cost to install a ductless system. Let's face it; we all want to know where our hard earned dollar is going. The problem is there are so many facets with the installation of ductless mini-splits that pinning down an exact cost is nearly impossible. However, we can break down what goes into a ductless system to give you a better overall understanding of the installation process and general idea of what the cost might be.

How do mini-splits work? 
A ductless mini-split can be air conditioning only or a heat pump which provides both heating and cooling to a space. The system consists of an outdoor condenser and 1 or more indoor air handlers. These air handlers are all connected to the outdoor unit through copper refrigerant lines. The system can be controlled by a remote control thermostat, a traditional wall thermostat, or via Wi-Fi on a smart phone. Ductless systems can be designed to condition one room or an entire home. Sizing is determined by the heating and cooling demands on the space you are looking to condition. Single-zone ductless applications are fantastic to alleviate hot or cold spots in a home, like master bedroom suites, sun-rooms, bonus rooms, basements, and additions.
What kind of ductless air handlers are there?
Most commonly used and known are the wall-mount air handlers that are hung near the ceiling. However, a mini-split air handler comes in a variety of options to deliver your conditioned air. Floor mounted units are available that would fill the space of a small radiator and ceiling cassettes are made to fit up into an attic space and almost flush with the ceiling. Traditional heat pump ducted air handlers are also available that can connect with a ductless air handler to utilize existing ductwork and provide conditioning to a room that is unable to be ducted. This is a great way to create zones in a home.
So, what does a mini-split system cost?
A single zone ductless system can range from around $3,000 to much higher depending on the application. This large variance of cost for a system has many factors to consider. For instance, how big or how small is the system, what type of air handler is being used, how many air handlers are being used, how difficult will the installation be, how long is the copper refrigerant lines, how close is the electric panel to the outdoor unit, do we need to use slim-duct to cover the exterior refrigerant lines, and finally what accessories are being used.
A multi-zone ductless system can consist of a huge variety of configurations to properly cool and heat an entire home. One outdoor unit can connect up to 8 indoor units!
What goes into the cost of a ductless installation?
First and foremost is the equipment, then we need the copper refrigerant lines to connect the indoor and outdoor units. The R-410 refrigerant that goes into the system, wiring to power the outdoor unit, the breaker in the electric panel, electric disconnect at the outdoor unit, wiring to the indoor unit, a pad and 'legs' for the outdoor unit to sit level on, condensate discharge lines, and of course the time it takes to complete the installation of the system.
What are the benefits of a ductless mini-split system?
Efficiency: In both heating and cooling modes ductless systems are extremely efficient. Outdoor condensing units are driven by an inverter, which puts the system in a kind of cruise control instead of using a lot of energy to start up throughout the day. When air conditioning, SEER ratings for some systems reach well into the 30's making daily operation extremely cheap. When heating, ductless heat pumps can continue to produce heat in very cold temperatures, eliminating the 'cold-air blow' that is sometimes associated with heat pumps in the winter.
Versatile: Indoor units can be configured in a variety of ways, including to an existing ducted system. The air handlers themselves come in a variety of options and colors, in some cases clients will paint them. Options include wall-mounted, floor consoles, and recessed into the ceiling
Quiet: Both the indoor and outdoor portions of the system are extremely quiet. Often the outdoor unit is running in a low-stage and will slowly ramp-up which then eliminates the loud noise associated with a traditional heat pump or air conditioner starting. The indoor air handlers are whisper quiet when they are running.
Improved Air Quality: As ductless air handlers are running, they are continuing to move the air over their internal filters. These filters are capable of removing airborne particulates and bacteria.
Secondary Heat Source: Many systems are installed to provide cooling to homes that have boilers and no duct work. Since any multi-zone ductless system is a heat pump, this now gives the homeowner 2 sources of heat.
Dehumidification: Installing an air handler not only provides heating and cooling to a space, it provides an opportunity for excellent dehumidification, which is especially beneficial for finished basements. Most air handlers will far surpass the performance of small portable dehumidifiers and some will compete with much larger whole-home dehumidifiers. In the right application, a floor console is rated to remove more than 100 pints of moisture a day – all without having to dump out a tray!      
We have been specializing in ductless mini-split systems for years and are a Mitsubishi Diamond Elite Dealer as well as a Carrier Factory Authorized Dealer. Give us a call to learn more or schedule your free estimate to see how ductless can work for you.
Learn more about ductless heat pumps here.
Learn More About Ductless Systems
https://www.ezimmerman.com/wp-content/uploads/2017/06/ez-logo.jpg
0
0
Tim Kortze
https://www.ezimmerman.com/wp-content/uploads/2017/06/ez-logo.jpg
Tim Kortze
2018-02-14 15:07:14
2021-05-20 09:43:29
What is the Cost of a Ductless Mini-Split System in Harrisburg, PA?