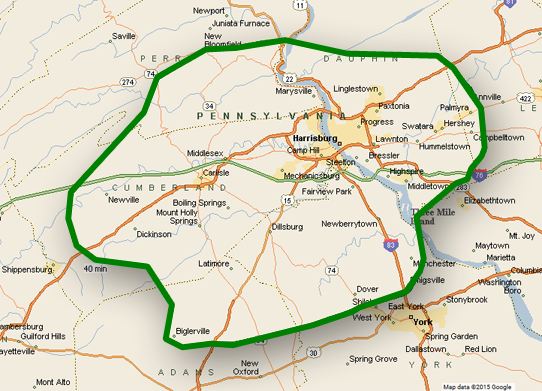 Adams County
Biglerville 

| 17307


East Berlin 

| 17316


Heidlersburg
Lake Meade
York Springs

|

17372

Cumberland County
Boiling Springs | 17007
Bowmansdale
Camp Hill | 17011
Carlisle | 17013, 17015
Enola | 17025
Grantham | 17027
Hampden Township
Lemoyne | 17043
Lisburn
Mechanicsburg | 17055, 17050
Middlesex
Mt Holly Springs | 17065
Newville | 17241
Plainfield | 17081
Shiremanstown   
Wormleysburg | 17043

Dauphin County
Colonial Park 

| 17109


Dauphin 

| 17018


Grantville 

| 17028


Halifax 

| 17032


Harrisburg 

| 17110


Hershey 

| 17033


Highspire 

| 17034


Hummelstown 

| 17036


Linglestown 

| 17112


Middletown 

| 17057


Paxtang 

| 17111


Paxtonia
Steelton 

| 17113


Swatara
Union Deposit

Lebanon County
Campbelltown | 17010
Palmyra | 17078

Perry County
Dellville
Duncannon 

| 17020


Landisburg 

| 17040


Marysville 

| 17053


New Bloomfield 

| 17068


Shermans Dale 

| 17090

York County
Andersontown
Dillsburg | 17019
Dover | 17315
Etters | 17319
Franklintown | 17323
Goldsboro
Lewisberry | 17339
Manchester | 17345
Newberrytown
Red Land
Strinestown
Wellsville | 17365
Yocumtown
York Haven | 17370

Locations We Service
If you have been putting off plumbing or HVAC work in Pennsylvania because you're concerned you won't find a plumbing and HVAC company that offers true value, get in touch with us. Zimmerman Plumbing, Heating and Air Conditioning has been awarded Harrisburg Magazine's Simply the Best for 12 straight years, but we are more than just a Harrisburg HVAC and plumbing company. We have been meeting the plumbing and HVAC needs of residents all throughout central Pennsylvania.
Locations
Among the many locations we can easily reach from our local office in Mechanicsburg are:
Cumberland County
Dauphin County
West Shore
All of Central Pennsylvania
No matter where you are in our service area, you'll get the same high level of attention and quality service.
Services We Provide
We offer a complete range of plumbing, heating and air conditioning services. We have the tools and personnel to install a completely new heating or air conditioning system, replace your current heating or air conditioning, or make any necessary repairs. We offer regular maintenance on all your HVAC and plumbing systems to make sure everything is up-to-date and ready to work when you need it. Our experienced plumbers who can fix leaks, clear drains or perform any other plumbing services you require.
Because we know plumbing problems don't happen according to anyone's schedule but their own, we offer 24/7 emergency service so we can fix your plumbing issue fast, when it happens. If you've ever had a plumbing problem, you know how valuable that can be.
Contact Zimmerman!
With a one-year parts and labor warranty on all services, upfront pricing, and free quotes on installations, there's no reason to wait to fix any of your plumbing or HVAC needs. Our reputation for providing quality, reliable service is well-known, and we would love to share our expertise with you. We treat our customers like family, and you'll always have peace of mind when it comes to your plumbing and HVAC service once you have Zimmerman in your corner.
Contact us now for a free estimate on your plumbing or HVAC service. We look forward to serving you!