Air Filtration and Duct Cleaning Near Harrisburg, PA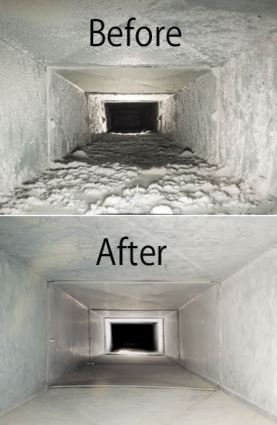 According to the EPA, indoor air can be up to 7x dirtier than outdoor pollution. That poor indoor air quality is more common than many of us realize. The quality of air in your home is serious to your comfort and health – especially if you or a family member suffers from asthma or allergies. Toxic molds, fumes from cleaning solutions, and other contaminants pose a serious risk for everyone in your house. This is why Zimmerman offers products and services that will protect your health and improve your comfort.
Avoid breathing problems and more by investing in:
Air Purifiers – to help remove allergens and other particulates—this will also improve system health
Humidity Control – whole-house humidifiers and dehumidifiers
Electronic Air Cleaners
Carbon Monoxide Detectors
Ultraviolet Air Purifiers – these UV lights, which kill bacteria, viruses and mold are installed directly into your ductwork, which also eliminate gases and odors (pictured)
Duct Cleaning – removes dirt and debris from the duct work, keeps the system clean
Equipment to Keep the Air Clean
Our home air filtration services include the installation of devices that monitor or actively filter contaminants out of your indoor air. Many people think of their furnace filter as the only air filter they need, but this component is used to protect your HVAC system, not your health. A whole home filtration device often has a heavy-duty filter capable of trapping viruses, bacteria and dangerous particles from cleaning products and aerosol sprays.
Air purifiers are a related but different type of equipment capable of eradicating contaminants, and can also improve the smell of your home. These devices are installed in ductwork, where they can operate sight-unseen, and use UV lights to destroy everything from harmful molds, smoke, and gasses to off-putting odors.
Surprisingly, even simply adjusting the humidity in your home will go a long way to create a healthier, more comfortable living environment. High rates of moisture lead to fungal growth which aggravates breathing problems and causes property damage. Whole home dehumidifier installation is especially helpful in properties with damp basements or humid attics, as it clears away the problems permanently and prevents the growth of toxic mold.
Whole home humidifier installation can also a worthy investment, as they prevent the irritation to skin, hair, eyes and lungs that cold weather often introduces. Today's HVAC systems may offer humidity add-ons, though a stand-alone device may be necessary.
Services to Improve Indoor Air Quality
Special devices aren't the only way to make your air cleaner. At Zimmerman, we provide a range of services to keep your home safe. Whether it's clearing dust from your ductwork and plugging up gaps where contaminants creep in or installing a water filtration device on your plumbing. Ask us about our air duct cleaning services in Mechanicsburg, Camp Hill, Harrisburg and more to see how you can experience the full benefits, including improved HVAC efficiency.
In addition to all of our installations, we provide a professional carbon monoxide (CO) detector to immediately alert anyone in the house if there were to be a higher-than-normal level of CO coming from your heating and cooling equipment or other fuel burning appliance. We inspect for holes in ductwork in order to prevent pulling unwanted dirt, debris and potentially harmful odors into your HVAC system. If needed, we offer HVAC cleaning in the Mechanicsburg, PA area. We provide home whole humidifier installation. We also provide air duct cleaning services in Camp Hill and the surrounding neighborhoods to increase air flow throughout your home and keep your system running cleanly.
Maintaining a Safe, Comfortable Central PA Home
Air quality is easy to get under control with the help of a trained professional. Our service goes the extra mile to ensure you and your family are able to enjoy your home worry-free. We provide humidifier and air filtration maintenance so you won't have to worry about a surprise malfunction. Our technicians are trained to catch worn parts and other red flags before a possible breakdown.
We strive to offer the best possible plumbing, heating and cooling services to our clients, including the ability to improve indoor air quality. We handle every step of the process and always provide free estimates for any products or services we recommend. As always, Zimmerman fully backs our work with outstanding parts and labor warranties.
Our dedication to providing the utmost in customer service, our talented team members and having access to high-quality HVAC and plumbing products has paved the way for our company being voted Harrisburg Magazine's Simply Best for Plumbing & HVAC 2005-2016. We're eager to extend our services as a great air duct cleaning company to every property owner in the West Shore, Carlisle, Hershey and Greater Harrisburg area.
Call us at (717) 697-3528 or contact us today to schedule a service or maintenance appointment for cleaner air in your home! Start your air duct cleaning in Harrisburg and Mechanicsburg PA today.
Learn More About Our Services
https://www.ezimmerman.com/wp-content/uploads/2017/06/Service-icon-_0015.png
134
155
admin
https://www.ezimmerman.com/wp-content/uploads/2017/06/ez-logo.jpg
admin
2017-06-08 14:09:25
2022-09-09 08:41:09
Air Filtration and Duct Cleaning Near Harrisburg, PA