Heating Services in Central PA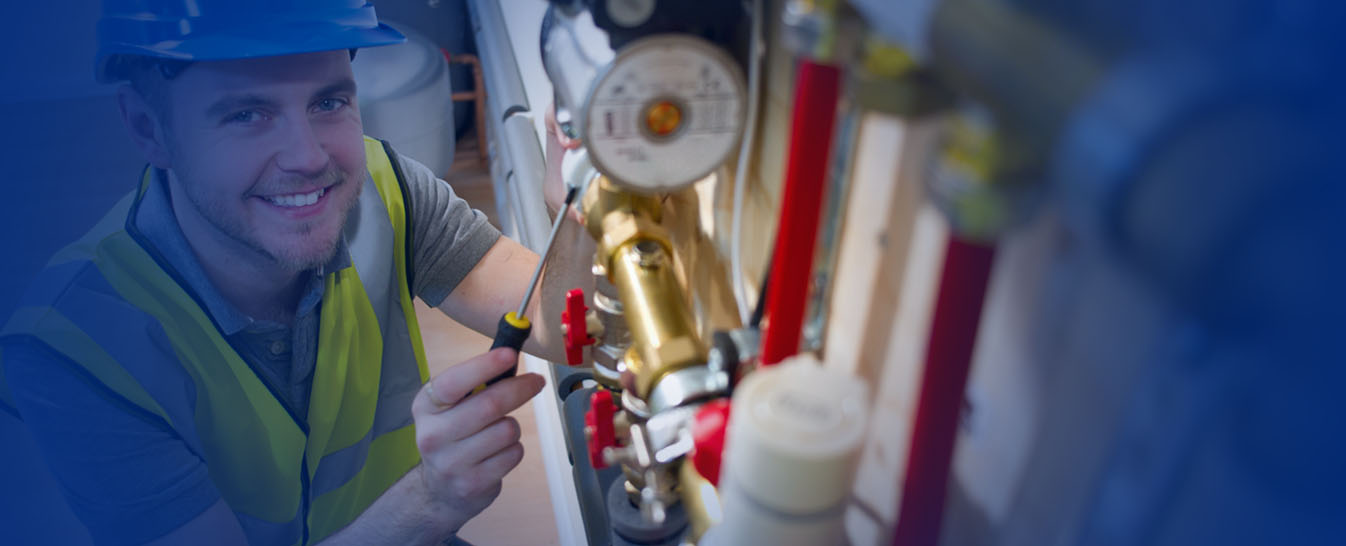 At Zimmerman Plumbing and Heating, Inc., we offer HVAC maintenance, repair solutions and plumbing services to homeowners in the greater Harrisburg area. Our heating system services — including our Planned Maintenance Agreements are our ability to help you keep your heating system running efficiently and can help you save on future costs or avoid an emergency. We guarantee convenience for our customers with free estimates, planned maintenance agreements and emergency after-hour services.
We provide help with various heating installation services and repairs for homeowners throughout the area. Some of our services include furnace, boiler and ductless mini-system repairs and installations as well as geothermal heating solutions. Our HVAC installers are more than capable of replacing heat pumps, gas furnaces, gas boilers and geothermal heat pump systems. 
Trusting the services provided by Zimmerman Plumbing, Heating, and Air Conditioning will benefit your heating system. You'll find that your equipment lasts longer when under the care of our company, and our new installations run efficiently and operate more safely.
We handle your heating system with expert care and excellent customer service. With the assistance of Zimmerman Plumbing and Heating, you can find, repair or install reliable heating systems.
Boiler, Heat Pump and Furnace Installations
With long Pennsylvania winters, you want to ensure your home has the proper heating system. Everyone wants efficient and safe heating during the winter so that they can use less fuel while saving on heating expenses and improving air quality. If your current boiler or furnace needs an upgrade, trust one of our experts to help you decide on a new system based on your family's needs and budget.
Suppose you live in one of the many Pennsylvania homes relying on a gas boiler as your primary heat source. We have skilled installers and service technicians specializing in boiler repairs and installations. Don't leave the process of installation to chance. Hire professionals who can offer you peace of mind while working diligently and efficiently.
A new high-efficient system can significantly reduce fuel consumption and handle hot water needs for your home. Boilers provide fantastic heat and reliability. Be sure to maintain your system, and when it's time to upgrade, get a free estimate from us.
Our technicians are factory-trained with NATE certifications and background checked with drug-free assurance. We'll oversee the process to ensure that every part of the system works correctly before walking you through each step. You'll become familiar with the system that keeps you warm while having peace of mind with our one-year guarantee. 
Efficient Geothermal Energy
Are you looking for an energy-efficient electric heating solution for your home? If so, ask one of our team members about geothermal systems. Geothermal heat pump systems use the earth's temperature to warm the house with an underground circulating water loop and pipes between your home and the heat pump system. During cold months, the systems absorb heat from the ground and carry it to the system to create warm air.
Some benefits of using geothermal energy include the following:
Energy savings: According to the EPA, geothermal energy can produce savings of up to 70% compared to other heating systems. When hot air or water is generated by the system, geothermal energy helps save you money.
Quiet components: Geo systems are quiet without the need of an outdoor unit.
Eco-friendly parts: Geothermal energy is eco-friendly and does not produce greenhouse gases.
Clean, safe energy: The system does not produce combustion or carbon monoxide.
Durable, long-lasting life: Geothermal systems have a long life span and ground loop systems.
Versatile Ductless Mini-
Split

 

Heating Options

Zimmerman is a great choice for central PA heating services. Ductless mini-split systems are an energy-efficient, versatile heating option. You can heat specific rooms or the entire home. Ductless heating systems connect refrigeration lines with no ductwork requirements. One outdoor or indoor unit can be thermostat-controlled, with various installation options like a wall, ceiling or floor mounted indoor air handler.

Some benefits of a ductless mini-split heating system include the following:
Energy efficiency: Ductless mini-split systems are very energy efficient.
High-heating: Many systems have capabilities to heat efficiently during very cold temperatures compared to standard heat pump systems.
Zone control: Multi-zone systems offer excellent zone control.
During our cold winter months, it's critical to have a reliable heating system for your comfort, budget and safety. Zimmerman Plumbing and Heating can provide the best system choices to keep your house comfortable and lower energy bills. Regular maintenance through our Planned Maintenance Agreements will also ensure that your heating system will run efficiently and safely. In an emergency, we are available 24 hours a day and seven days a week for our customers.
We give a one-year parts and labor Zimmerman Plumbing, Heating & Air Conditioning warranty on all heating repairs.

Types of Heating Systems
Consider the different types of heating systems:
Boiler and Hydronic systems: Natural gas and propane options to distribute some of the most comfortable heat through water pipes or radiators in your home.
Furnaces: Gas and propane hot air options.
Heat pumps: A common way to provide hot air using an electric indoor and outdoor unit, or split system. Heat pumps have become far more efficient than their predecessors. 
Hybrid heating or Dual Fuel system: A combination of a high-efficient heat pump with the comfort of a furnace
Geothermal: The 

most environmentally friendly

 way to heat and cool your home with electric and possibly even heat your water.

Ductless mini-split systems: 

Creative and efficient heat pump systems

 for individual rooms or a whole house.
Additionally, there is the possibility of adding to your current system to create greater comfort in your home or greater efficiency with your heating system:
Zoning: Alleviate cold spots in a house.
Duct modifications: Increase or improve air-flow throughout your home.
Whole-home humidifier: Keeping you feeling warmer and improve air quality.
Upgraded programmable thermostat: Improve monthly utility costs.
Benefits of Using Our Heating Services
Some benefits of using Zimmerman heating services include the following:
Dependability: Our company offers OEM parts and filters while giving you appointment reminders and technician calls whenever you use our services.
Emergency services: We offer our customers emergency services anytime they need us.
Security: Rest assured that our technicians are fully licensed, background checked and drug tested.
Safety: Our practices are safe. From contractor projects to building codes, we always go beyond industry standards.
Cleanliness: We leave your home as clean as we found it using drop clothes and shoe covers.
Choosing the Right Heating System
If your heating system is too small or large, you might be sacrificing comfort and wasting money. Make sure your system is the right size to ensure it works properly. If a heat pump system is too small, it might increase your utility bill as it struggles to heat the home. Almost any heating system that is too large will waste energy.

Trust Zimmerman for Your
Heating Maintenance in the Harrisburg Area
Zimmerman Plumbing, Heating & Air Conditioning is the most trusted HVAC company in the Harrisburg, PA, area for a reason. With more than 43 years of plumbing, heating and cooling experience, we can repair almost any system your home has and make installation upgrades to best fit your heating needs, efficiency desires and budget. 
As a recognized top-efficiency contractor, we specialize in installing and repairing gas furnaces, boilers and heat pumps. Call us today at 717-697-3528 to schedule an appointment, or complete our online form to receive a free heating estimate.
Learn More About Heating Services From Zimmerman
https://www.ezimmerman.com/wp-content/uploads/2017/06/Service-icon-_0011.png
134
104
admin
https://www.ezimmerman.com/wp-content/uploads/2017/06/ez-logo.jpg
admin
2017-06-08 14:02:39
2023-01-16 10:53:35
Heating Services in Central PA