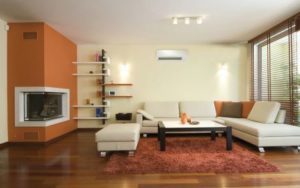 Ductless heating and cooling has come a long way, many of us do not realize it has been available in the US since the 70's.  Originally started as an upgrade to window units, it is now an extremely viable option year round in place of electric heat sources, oil heat, and even traditional heat pumps.
We have become the authority on ductless, mini-split installation, service, and maintenance. A ductless or mini-split system is essentially a very efficient heat pump system connected through traditional refrigerant lines without the need for duct work. The most popular utilization of ductless technology is via a wall hung unit, however there are many applications where floor mounted or ceiling cassettes are great options.  These systems can be paired as 1 indoor to 1 small outdoor unit controlled by a thermostat or more complex systems that act as whole-house applications with up to 8 indoor units to 1 outdoor unit all independently controlled!  Ductless systems can even be utilized in conjunction with a more traditional ducted air handler to provide additional heating or cooling to a space that may not get adequate air flow, i.e. sunrooms, bonus rooms above a garage, or basements while the remainder of the home is still being heated and cooled by the ducted portion of the system.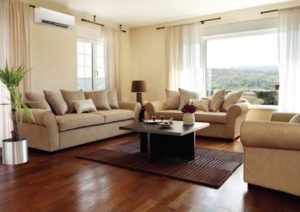 Key Benefits:
Extremely Efficient:   inverter driven and hyper heating technology provides some of the best efficiency ratings in the HVAC industry
High Heating Capacity:  even when Central PA reaches 0°, some equipment has the ability to stay at full heating capacity – traditional heat pumps can start to de-rate at 40° – this virtually eliminates the spike in electric usage in the winter
Zoned: With multiple indoor units, these systems act as a zoning system. Each indoor unit can be independently controlled to provide the ideal conditioning for each room of the home.
Versatile:  wall-units come in a variety of capacity sizes depending on the room or rooms for which they are designed.  There are also a variety of models and even colors that can be selected. Floor mounted, ceiling cassettes, and ducted air handlers are all able to be integrated into a ductless system.
Reliable:  The components of the equipment are all manufactured specifically for each product, with proper installation and maintenance these systems are expected to last much longer than traditional heat pumps.  As a Diamond Elite Dealer through Mitsubishi, we are able to offer a 12 year warranty on all components.
Quiet:  Both the indoor units and outdoor units are extremely quiet
Packed with technology and efficiency ductless systems can be the ideal solution to add heating and cooling to a single room or an entire home.