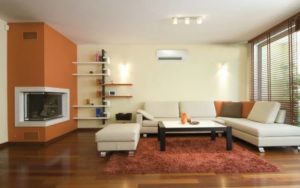 Ductless Heating and Cooling Services in Central Pennsylvania
Are you looking for a more efficient, cost-saving and dependable heating and cooling solution for your home? At Zimmerman Plumbing, Heating & Air Conditioning, we specialize in ductless heating and cooling services, maintenance and installation throughout Harrisburg, PA that save you money. We are a ductless systems expert in Central Pennsylvania and offer free installation estimates, special offers, parts and labor warranties, as well as a 24-hour emergency service.
What Is Ductless Mini-split Heating and Cooling?
Did you know ductless heating and cooling has been around in the United States since the 1970s? It's also a primary system used throughout many homes in Europe and Asia because of its energy efficiency. Ductless systems provide heating and cooling as a heat pump using an indoor and outdoor unit. They don't use traditional HVAC ducts to transfer your warm or cool air, but instead function utilizing a refrigerant line that connects the indoor air handler and the outdoor condenser. Ductless air handlers can be installed in the wall, floor or ceiling, and you can choose to have either one indoor to one outdoor unit or connect up to eight indoor units to one outside. You can even utilize a traditional ducted air handler attached to ductless mini-splits.
Common reasons homeowners opt to install a ductless heating and cooling system in their home include that: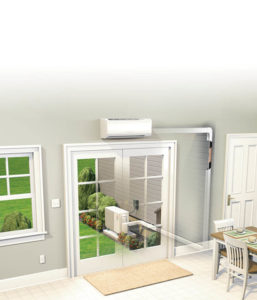 Their current home is older and doesn't already have existing ductwork or has a traditional HVAC system
Their current traditional ducted system is subject to high fuel costs, energy bills and low efficiency
They've added onto their home or finished a basement and need the new space cooled and heated
They have a room or space that is too hot or cold
They want to get rid of window units or portable air conditioners
Benefits of a Ductless Mini Split
Ductless mini split systems not only eliminate large and difficult-to-install ducts throughout your home, but they also offer cost savings and versatility that a traditional air conditioner and heating system cannot provide. Benefits of ductless heating and cooling include:
Zone Control and Efficiency: With multiple indoor units, you can achieve zone control — or different indoor temperatures throughout your home. Each unit can be independently controlled using wall controls, remote controls or smart controls and applications. This in addition to high heating technology gives you flexibility, so you can see cost savings on your monthly utility and energy bills.
Cost Savings: It's estimated that they use 60% less energy than home electric heating systems. Because mini-split heat pumps use better compressors and fans, they can adjust speeds and reduce energy consumption, saving you up to 30% over conventional air conditioning units. Not to mention, the costs of ductless mini split heating and cooling installations are typically less than installing a full, traditionally ducted system.
High Heating Capacity: When the temperature gets extremely low, some ductless systems will stay operational at full capacity, while heat pumps can de-rate at 40 degrees, which can eliminate electric usage spikes and increase energy efficiency.
Versatility: Ductless systems can be installed in your home as a wall unit, floor mounted, ceiling cassettes and as ducted air handlers. Wall units come in a variety of sizes that best fit the usage of the room you're installing it in and are offered in several colors that blend seamlessly with your furnishings.
Reliability: With proper installation and maintenance, ductless heating and cooling systems are expected to last longer than a traditional heater and air conditioner. Zimmerman can offer you up to a 12-year warranty on all ductless system components and up to a 12-year labor warranty.
Quiet Operation: While in use, indoor ductless systems are as quiet as a whisper, so they don't disturb your daily living. Outside, the condenser is hardly noticeable.
Local Ductless Heating and Cooling Services in Harrisburg, PA
As a family-owned and operated company, we pride ourselves on offering exceptional customer service and affordable heating and cooling solutions for residents of the Greater Harrisburg area. We are a knowledgeable and experienced company that installs ductless heating and air conditioning units. For the best plumbing and HVAC services, call the professionals at Zimmerman Plumbing, Heating & Air Conditioning today at 717-697-3528, or fill out our online contact form
Learn More About Ductless Heating & Cooling in Central PA