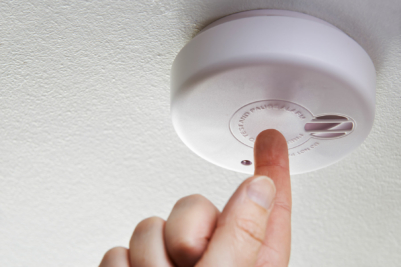 Your Fall Home Safety and Comfort Checklist
The kids are back in school and we are finally, or hopefully, done with the heat and humidity for the year. It's time we start to focus on having our homes ready for cooler weather. Don't wait until it's cold to get a jump on some of these important tasks around your home.
Inspect the exterior
Seal up any cracks or holes in the foundation of your home, around any penetrations, along with windows and doors.  Check any exhaust pipes for blockages created by birds nesting or other critters trying to make homes. Also, make sure down spouts are clog free and running away from your home's foundation.
Test the sump pump
Fill a 5-gallon bucket with water and dump it into your sump pit. This should be plenty of water to activate your sump pump to make certain that it's operational.
Check Smoke and Carbon Monoxide (CO) detectors
We can't stress enough the importance of smoke and CO detectors in your home. Changing the batteries alone might not be enough. Pull the unit off of the wall or ceiling to check its expiration date and clear any cobwebs away from the sensor using a can of air and/or small, soft brush. If it's expired, replace it, if not change the batteries and test its operation. There should be at least 1 smoke detector on each floor of your home including your basement.
Homes with fuel burning appliances will also have CO detectors. In addition to an expiration date, a CO detector will have an arming level measured in Parts Per Million (PPM). Not all CO detectors are created equal, the tag on the device will indicate its arming level, some won't start alerting you until it reaches 400 PPM! These should be thrown in the trash because no level of CO in a home is acceptable let alone a level that high. Find one with an alert as low sensing as possible. Like smoke detectors, these should be located on at least every level of your home and especially near bedrooms.
Change Air Filters
Even though this is not a seasonal task, it's always a great reminder. 1" air filters can be changed as often as every 1 – 3 months. While the larger 4" media filters we often use, should be changed every 6-12 months.
Have Chimneys Swept
If you have a heating system or fireplace that relies on a smoke pipe or chimney. It's a good idea to have this inspected and cleaned by a professional.
Maintenance of the Heating System
Last but not least, have your heating system maintained seasonally – this does not mean it has to be done before it's turned on. As long as it's done at some point during each heating season you should have the peace of mind that it's been inspected and working properly.
With all of these tasks taken care of, you should be able to enjoy a warm, comfortable, and safe home during the heating season. Give us a call at (717)697-3528 or fill out our contact form if we can assist you with your home-care needs.