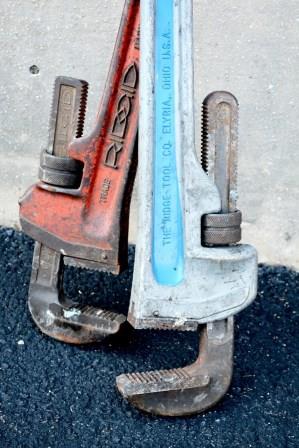 Plumbing Services
If your current provider isn't meeting your needs for plumbing in Mechanicsburg, Harrisburg, PA or the West Shore area, check out all the high-quality services we offer, including:
Piping
Drains
Fixtures and Faucets
Toilets
Water Heaters (gas/electric/tankless)
Tubs
Tub and Shower Enclosures
Water Pressure Reducing Valves
Root Removal
Sewage Pumps
Sewer and Drain Cleaning
Backflow Testing
Well Pumps
Sump Pumps
Disposals
Appliance Hookup
Water Heater Repair
Much more
If you're looking for a plumber in Mechanicsburg, PA, or for plumbing needs in Harrisburg, Carlisle or the West Shore, contact Zimmerman first. We service and maintain ALL of your home's plumbing needs. Whether you are looking to stop a minor leak or your master bathroom is in need of a major renovation, we can solve any plumbing problem you may encounter. In the search for a plumbing expert in Mechanicsburg, PA, residents know who to call, and homeowners looking for plumbers in Harrisburg, PA, know, too. Zimmerman is your full-service, professional solution for plumbing, heating and air conditioning.
Most of our plumbers are masters of their trade, while our trucks and warehouse are fully stocked to quickly make repairs — 24 hours a day, seven days a week. We utilize the best parts available and have access to any brand. No job is too big or too small. At Zimmerman, we're so confident in our plumbing services that we even offer one-year parts and labor warranty on all repairs.
Kitchen and Bathroom Plumbing Installations and Repair
Kitchens and bathrooms are essential to your family's day-to-day living. At Zimmerman Plumbing, Heating & Air Conditioning, we specialize in plumbing configurations to maximize efficiency in these rooms and can help you install new and improved plumbing fixtures. Having a professional visit your home to design a new plumbing layout or install new fixtures like sinks, toilets, bathtubs and showers can also give you the peace of mind that your residential plumbing is done completely and correctly.
At Zimmerman, we also help residents in the Greater Harrisburg area with their kitchen and bathroom plumbing repairs. Have one of our technicians visit your home if you're experiencing:
Leaks and drips
Clogs
Odors
Low water pressure
No hot water
If you find your kitchen or bathroom plumbing isn't working at its best because of one of these common plumbing issues, call one of the professionals at Zimmerman. Our plumbers will arrive at your home at a time that works best for your schedule and quickly repair your plumbing so it operates at its best again.
Reliable Drain Cleaning Services in Central PA
Drains are a crucial part of your home's plumbing, responsible for whisking wastewater away. Unfortunately, your home's drains can easily become clogged with regular daily use. Everyday items that build up in your plumbing include soap and bathing products, grease and food waste. If your pipes are nearing the end of their lifespan, clogs could be the result of your pipes deteriorating or forming buildup that blocks the flow of water. Signs that your drains need to be cleaned include any water or sewage backing up into your home, drains flowing slowly or your dishwasher or garbage disposal not emptying properly.
When you trust one of our expert plumbing technicians, we will clean the drains in your home so your plumbing starts working efficiently again. With proper drain cleaning, you can avoid clogs and costly plumbing repairs later.
Sump Pump Maintenance
As a quiet operator, you probably don't often think of the sump pump keeping your basement dry and preventing unwanted flooding. Whether you need sump pump repair or just require a sump pump installation, one of our technicians can help and make recommendations based on your needs. Sump pumps are available for high or low capacity demand depending mainly on your home's location, water table and flooding conditions of the area. Be sure to have one of our plumbers visit your home if you're noticing the following problems:
Sump pump is making more noise than usual
Sump pump cycles on and off frequently
Sump pump doesn't turn on and adequately drain water
Water isn't draining quickly
Foul odors are coming from the sump pump area
Become One of Our Priority Customers Today for Special Offers
By being one of our priority customers, you'll have the benefit and the peace of mind that your home's plumbing is working thanks to Zimmerman's annual Plumbing Maintenance Agreement. With our yearly program, one of our skilled, local plumbers in Harrisburg and the surrounding areas will visit your home once a year to ensure your drains are running smoothly, stop any potential water loss, verify water heaters are operating correctly and keep piping and water-using appliances clean and efficient. Additional benefits of regular plumbing maintenance include:
Priority service
Discounts
Warranted equipment and parts
Safe, clean and reliable plumbing
Utility cost savings
Trust the Local Plumbing Experts at Zimmerman
Since 1980, the experts at Zimmerman Plumbing, Heating & Air Conditioning have been the most trusted name in residential plumbing services in the Greater Harrisburg area. As a family-owned company, we operate with a focus on friendly, reliable service, and our local technicians genuinely understand the needs of homeowners in Central Pennsylvania. We know how necessary proper plumbing is for your daily comfort, which is why we offer emergency 24-hour services, transparent pricing and free project estimates and warranties on all our parts and services. We are a Camp Hill, Mechanicsburg, and Harrisburg plumbing company that travels to the surrounding areas to help our customers in need.
In addition to our drain cleaning, sump pump maintenance and plumbing installation services, we also offer expertise in water heater installation, water heater repair, sewage pumps and well pump maintenance. Learn more about our services today, or become one of our esteemed priority customers by calling 717-697-3528 and speaking to one of our team members. You can also complete our online scheduling form.
Whether you're seeking a Carlisle plumber or a plumber in Harrisburg or Mechanicsburg, PA, call us at (717) 697-3528 or fill out our contact form today for home plumbing estimates, service or maintenance.
Learn More About Plumbing Services From Zimmerman
https://www.ezimmerman.com/wp-content/uploads/2017/06/service-icon3.png
134
105
admin
https://www.ezimmerman.com/wp-content/uploads/2017/06/ez-logo.jpg
admin
2017-06-08 13:57:02
2022-02-17 11:27:43
Home Plumbing Services Near Harrisburg, PA